Um dos nomes mais conhecidos da arquitectura Portuguesa faz parte do Porto: Álvaro Joaquim de Melo Siza Vieira.
One of Portuguese architecture's most famous names is a part of Porto:
Álvaro Joaquim de Melo Siza Vieira.
Nascido em Matosinhos, em 1933, Siza Vieira desenvolveu projectos e obras que estão hoje presentes um pouco por toda a cidade, o país e pelo mundo. Sendo uma referência mundial também para todos os que estudam ou simplesmente se deixam fascinar pela Arquitectura, na AlegriaRide desenhamos uma rota que vos vai levar pelas ruas do Porto de scooter á descoberta da obra deste mestre.
Born in Matosinhos in 1933, Siza Vieira has developed several projects which are spread around the city of Porto, our country and even the world. Being a worldwide reference for the ones who study architecture or simply to us common admirers, at AlegriaRide Rent a Scooter we couldn't help but being a little proud and so we designed a route for you to go explore this master's work!
Comece pela Avenida dos Aliados.  É o centro nevrálgico do Porto, o sítio para onde converge e de onde se projecta hoje em dia toda a cidade. Foi alvo de uma reformulação muito polémica. Anteriormente composta por jardins e calçada portuguesa, hoje em dia todo o espaço da avenida é pavimentado e destina-se ás pessoas poderem circular nele.
Start at Aliados Avenue. That's right, the meeting point of the city. Everything "starts" or "finnishes" here. Every celebration or demontration is held at Aliados square. Initially composed of gardens and portuguese cobble stone, it suffered a heavy and polemic rehabilitation and it's now a place where people can be, and walk on, taking the eventual selfie photo!
De seguida dê um salto ao Bairro Social Bouça II, situado mesmo junto ao metro da Lapa. Data de 1977. Inicialmente destinado a habitação económica para classes desfavorecidas, hoje em dia ele é procurado por estudantes e famílias de todos os escalões que querem habitar um pedaço de arte.
Next, is time to take your scooter to the next stop. Bairro da Bouça right next to Lapa Metro station dates back to 1977. Originally designed for the lower economical classes, it is inhabited by families and young artists or students.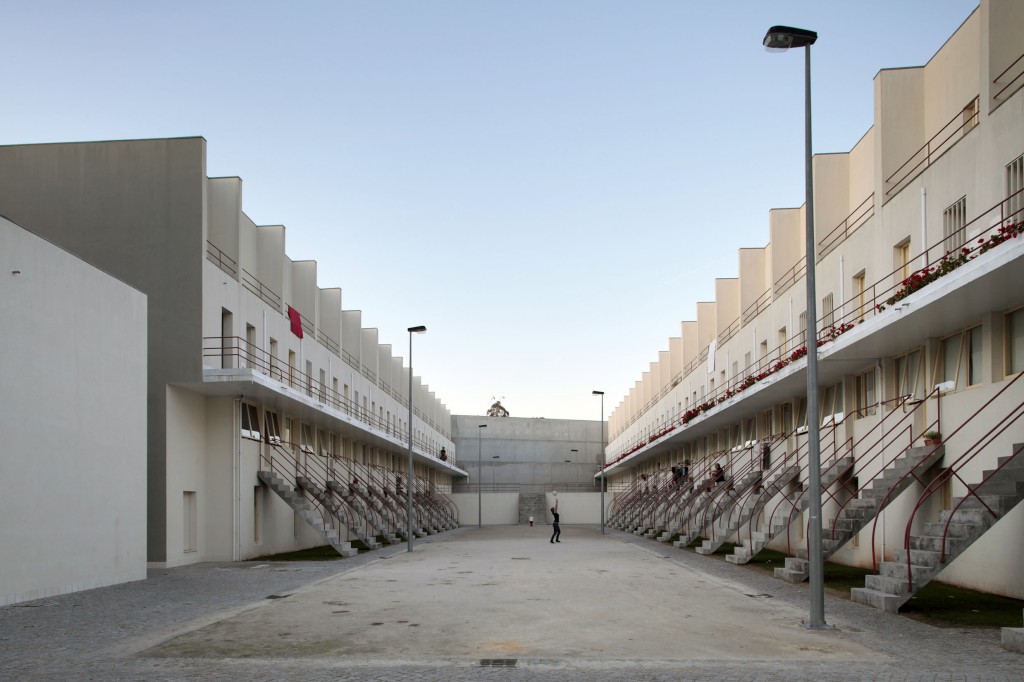 Continue a descer a Avenida da Boavista (a maior do Porto com 5,5 km) e pare no Museu de Arte Contemporânea de Serralves (1999), também ele um projecto do arquitecto. Os jardins são simplesmente fabulosos para um pic-nic no Verão!
Keep driving down the longest avenue of Porto (5,5 Km) and make a stop at Serralves Contemporary Art Museum. Opened in 1999 it has charming gardens just ideal for a pic-nic on a warm day.
Logo ao lado dê uma vista de olhos ao Edifício Boavista (1998), destinado a habitação de luxo.
Only a stone throwaway is Edifício Boavista, residencial and luxury.
A Avenida terminará numa rotunda. Vire á direita e continue junto ao mar, atravesse Matosinhos e a ponte que dá acesso a Leça da Palmeira. Aí encontrará duas obras que farão um fim-de-tarde inesquecível.
Primeiro, a Piscina das Marés inaugurada em 1966(!). Dê uma mergulho num monumento nacional!
The Avenue will end in a roundabout. Turn right and scoot along the ocean side town Matosinhos, crossing the bridge over to Leça da Palmeira. Here you will find two things that will make your day unforgettable.
First, the Piscina das Marés swiming pool, opened in 1966 and still very trendy for a dip or two by the sea, on a national monument!!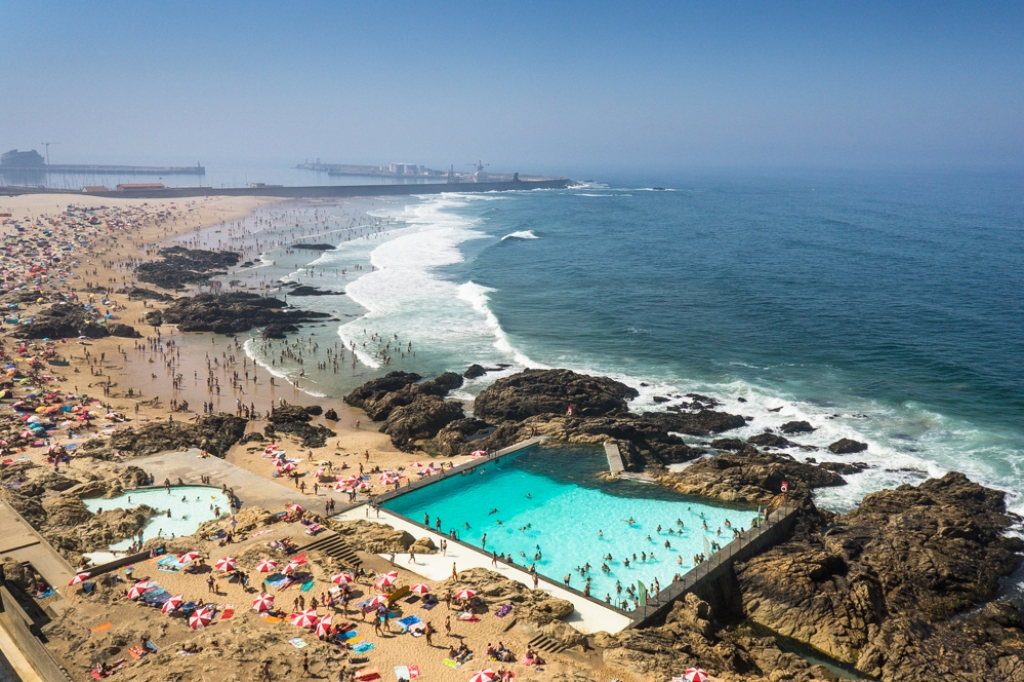 Bem perto, termine o dia na Casa de Chá da Boa Nova em frente ao mar.
Really close by finish the day with a tea and a sea view at Casa de Chá da Boa Nova