We do not rent vintage scooters because our activity's legislation does not allow it. But we do like to remember the good old days, whenever we can!
Trying to understand the Portuguese scooter production is like to try to put together a puzzle with many parts. So this article does not mean to be a timeline or historic lesson, but only to let you know about 2 models that Portugal produced.
As far back as it goes, the first date stamp we can put on a Portuguese scooter is 1956! "Once Portugal ran on motorcycles" – says an old employer of the old legendary Famel (Fábrica de Produtos Metálicos) factory.
Between 60's and 90's, without access to credit in the rural areas, motorcycles were the vehicles of the people. Famel motorcycles with German Zündapp engines could be heard all over the country.
The last model ever produced by this brand was the Famel Electron – an electrical scooter! Developed for the French Mail. Without the patent for it, and the lack of regulation for electrical vehicles, the project did not succeed in Portugal.
l
Back in the 60's, with a lot of pressure to produce the vehicles and engine 100% in Portugal, Engineer João Casal founded the "Casal Vehicles" factory. By the end of the decade in 1969, Casal produces its first motorcycle: a scooter. With a 50cc engine, 2 stroke, 4 speeds engine, the "Casal Carina".
Check out our scooters and rates here!
Não alugamos scooters vintage, pois a legislação da nossa actividade não o permite. Mas sempre que possível gostamos de reviver com nostalgia as glórias do nosso passado.
Tentar perceber a produção de scooters em Portugal é como tentar montar um puzzle com muitas peças. Portanto este artigo não pretende ser uma lição de História, mas sim um breve resumo da presença de dois modelos portugueses no mercado das scooters.
Começamos como é óbvio por falar da mítica FAMEL (Fábrica de Produtos Metálicos) que em 1956 coloca pela primeira vez o selo de fabrico numa motorizada fabricada em Portugal. Entre os anos 60 e 90, sem acesso ao credito, principalmente nas áreas mais rurais, as motorizadas eram o veículo do povo. Os motores da Zündapp colocados nestas motos eram ouvidos por todo o país. "Portugal inteiro andava de mota" – diz um dos antigos empregados desta fábrica.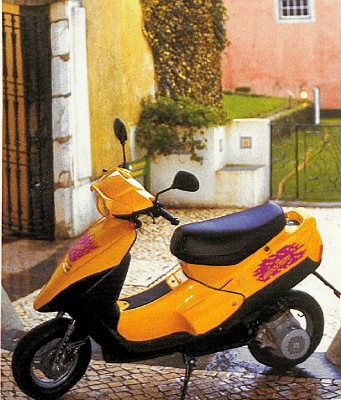 O último modelo produzido pela FAMEL foi a FAMEL electron, uma scooter eléctrica. Desenvolvida para uma encomenda dos Correios de França, mas sem patentes e sem regulamentação para estes veículos em Portugal, o seu lançamento foi um fiasco. Tinha autonomia para 50 Km.
Posteriormente, pressionada para produzir veículos e motores 100% portugueses, é criada a "Veículos Casal" parte da metalúrgica Casal. No final da década de 60 esta fábrica produz o primeiro veículo 100% produzido em Portugal… uma scooter! A Casal Carina. Com um motor de 50cc, 2 tempos e 4 velocidades.
Dêm uma vista de olhos nas nossas scooters aqui!